Deck Repair Contractors in East Lansing and Haslett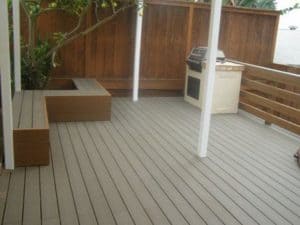 Custom Deck Repair Contractors in East Lansing for longer lasting decks
Evert Construction has been one of the top home renovation, remodeling, and construction solution providers in Lansing and Haslett in Michigan for last 25 years. With a great reputation and licensed team of decking experts, it ensures long-lasting and highly performing decks in East Lansing. Structural weakness, deck water damage, fading deck color, wood rots, and board gaps are some of the signs that East Lansing homeowners need a deck repair advice and service. With our proven deck framing techniques, we know how to install deck posts, construct deck beams, and designer frames for deck frames. That is why our deck repair solutions are customized and help you get a competitive edge when it comes to solving lots of issues and problems concerned with the repairing of a variety of decks in all parts of East Lansing, Michigan. As one of the top deck repair contractors in East Lansing, we help you improve domestic exteriors in an effective manner.
Deck Repair Contractors in Haslett for all deck sizes and types

Decks come in all sizes and types and are also used for adding beauty and comfort. From installing deck posts to constructing deck beams and from designing deck frames to using state-of-the-art tools, we give importance to quality, perfection, and timely completion of deck repairing projects. An existing deck can face the issue of faded colors, rotten wood, weak structures, damage by water, and the gap in boards. Whether you opt for deck repair service for an affordable pressure treated lumber deck, naturally-finer redwood and cedar deck, tropical hardwood deck, plastic lumber deck, composite deck, or powder-coated aluminum deck, we are the best and top deck repair contractors in Haslett for solving all major or minor issues with decks.
Need deck repair services in East Lansing and Haslett, MI? Call 517-896-5692 or fill out our online form for a having FREE deck repair ESTIMATE instantly.